CapacitÓ interna del cilindro circa 20 litri. Doppia parete per raffreddamento ad acqua, a scarico libero. Mulino a microsfere con corpi macinanti in perle di vetro, diametro circa 3 mm, carico circa 25 kg. Tenuta sfere tipo B, con speciale cono ruotante.
Motore elettrico principale normale potenza 11 kW, 4 poli, c.v.e. = chiuso ventilato esterno (trifase 380V, 50 Hz, o da precisare).
Pompa con motore potenza 0,75 kW, con variatore di velocitÓ, produzione indicativa 110 kg/ora.
---
MAZINGA 20 B c.v.e.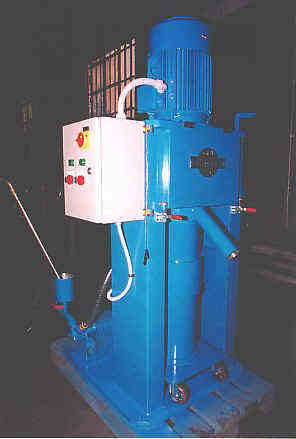 Internal cylinder capacity about 20 liters. Double wall for cooling water, without water pression.
Sand mill with grinding media in glass pearls, about 25 kg weight, about 3 mm diameter. Special rotating cone for spheres seal,
B type.
Standard main electric motor 15 HP power, 4 poles,
c.v.e. = closed external fan (3-phase, 380V, 50 Hz or to be precised).
Pump with motor 1 HP power, speed mechanical variator, indicative production 110 kg/hour.
---
Mulino a microsfere di vetro per produzioni circa 11 kg/ora.
Pompa ad ingranaggi con motovar. potenza 0,37 kW.
Cilindro di macinazione interno capacitÓ 2,5 litri circa, con intercapedine di raffreddamento ad acqua a scarico libero.
Tenuta delle sfere a cono ruotante (tipo B). Motore principale 2,2 kW, chiuso ventilato esterno.
---
Cliccare sul logo "Officine Cavalleri Mattavelli" per tornare alla panoramica delle altre macchine, oppure qui per tornare alla home page della sezione conchiglie.
MAZINGA 2 B c.v.e.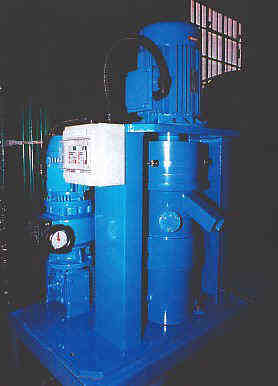 .
.
.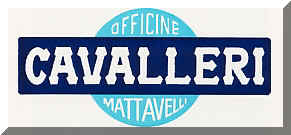 Glass pearl mill for indicative production 11 kg/hour.
Gear pump with speed mechanical variator 0,5 HP motor power.
Internal grinding cylinder about 2,5 liters capacity, with double wall for water cooling, water without pression.
Spheres seal with rotating cone (B type).
Main motor 3 HP power, closed external fan.
---
Click on the logo "Officine Cavalleri Mattavelli" to return to the other manufactured machines, or click here to return to the home page of the shell section.